Enterprise Solutions That Create A Culture Of Cyber Security For Every Business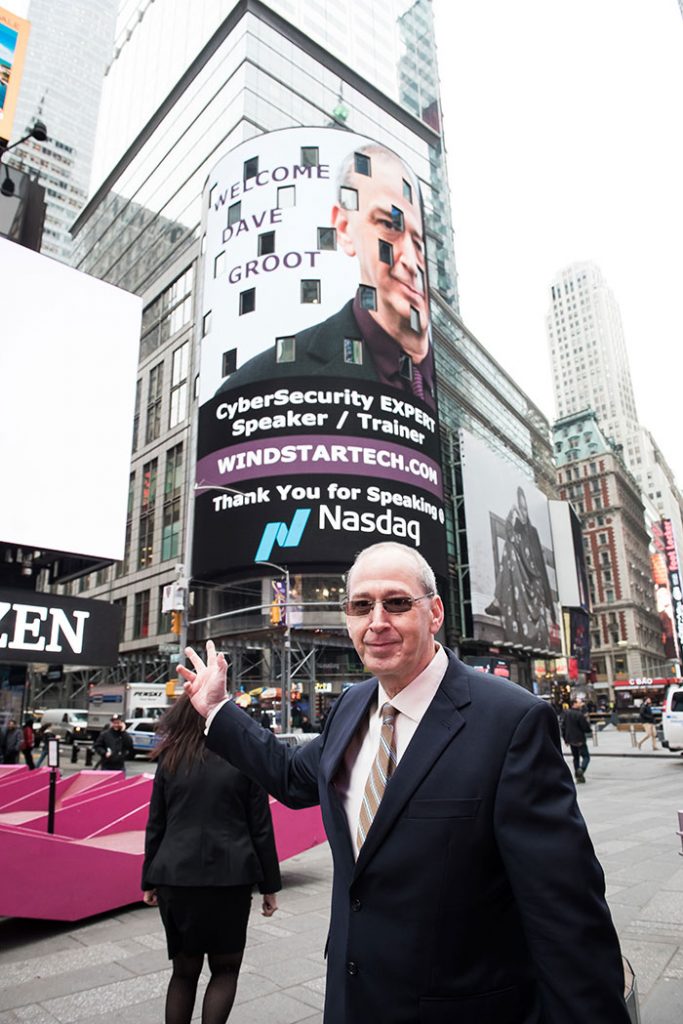 Dave grew up in Chicago area, and his parents were divorced when he was very young. As the youngest in a single-parent household, he was familiar with fighting for everything he had. To get by, he figured out how to relate to people from all different backgrounds and experiences. He found he could get to truly know someone simply by listening to them. To this day, Dave never presumes to know anything about a person – he doesn't make assumptions about what someone does or doesn't know, and that is what makes him an excellent teacher.
When he was 13, Dave started working in a restaurant in the Illinois neighborhood he grew up in. By 18, he was promoted to manager and excelled at training and teaching new employees because of his innate ability to relate to others. Soon he was contracted by franchisers all over the state to train managers.
Some years later, living in Virginia, he met Stefanie, who would become his wife. Soon the family grew, and with a son on the way and a family to support, Dave left the long 12-hour-plus shifts of the restaurant business to become a Realtor. It wasn't his dream job, but providing for his family has always been his priority. What he didn't know was that taking the job as a real estate agent positioned him to change the trajectory of his life and career forever. He discovered that his longtime interest in technology and his ability to educate others were much-needed skills – and he was in high demand.
What Businesses Need Is Someone Who Can Do AND Teach
In 1994, Dave was working as a Realtor when the mainframe MLS (multiple listing service) system was replaced by a Windows-based system. The new technology boasted an industry-changing MLS that allowed real estate brokers to pull up home listings at the tips of their fingers from anywhere. Dave couldn't wait to get his hands on the new technology, but his colleagues struggled. It became clear to Dave that the new technology was missing something important – someone to teach it – and that was something he had already been doing for most of his life. More than anything else, the gratification of seeing someone's light bulb go off when they understood something motivated him.
So naturally, when his colleagues needed help, Dave stepped in. Soon he was hired by the MLS company to train brokers and real estate officers across Virginia. They had the technology, but what they needed now, above all, was someone who could teach it well.
Dave saw the opportunity before him and took to books to become more familiar with the emerging technology. Realtor by day, IT student by night, Dave would stay up reading two-inch-thick textbooks cover to cover, sometimes twice. But for him, this was less like work and more a passionate pursuit. He remembers reading and looking up as the sun was rising, denoting a new day. He had stayed up all night studying and laying the foundations of his successful IT career.
We Help You Get The Most Out Of Your IT Solutions
Dave noticed the technology knowledge gap with businesses across many industries, and he took the next logical step. He founded Computers 101, a computer-consulting company that helped give businesses the IT support they deserved. Computers 101 not only provided solutions, but also empowered businesses to use them to their fullest benefit.
Shortly after, Dave was hired by a California software company. His first day at work consisted of receiving a software manual to study, and the next day he was on his way by plane to train enterprise-level executives on the new material, using software he had never touched. He was quick to learn and summarize complex information in a way that made sense to leaders across the country, across different industries.
Dave understands how data flows across a network; he sees it clearly. Then he brings it to a client on a level that applies to their world, their business. He helps his clients piece the technology together and find the benefit for themselves. Dave isn't simply a doer, he's a teacher, and this valuable combination set the trajectory of his career toward helping businesses get the IT solutions they needed, and empower them to get the most out of those solutions.
Windstar Technologies Teaches Businesses To Thrive
In 2001, the dot-com bubble crashed, and Dave was let go from the software company. But at this point, he knew he had what a lot of other IT consultants don't – the power to do AND teach.
This time, he focused his efforts on their community of Culpeper, Virginia. In 2004, Dave and Stefanie founded Windstar Technologies Inc., the only IT company in the area that focuses on both cyber security and compliance. For nearly two decades, Windstar has been dedicated to eliminating your computer and network headaches by providing exceptional maintenance and support from technicians who are professional and reliable.
We became Windstar Technologies because we thrive on seeing businesses grow with the aid of a secure and helpful IT team. Growing up in the family business helped their son, Justin, become one of their brightest business partners today. In 2017, when Justin rejoined Windstar as an IT specialist after graduating from Virginia Tech, the business tripled its growth. He brings with him a thirst for knowledge and a commitment to bringing the best information and service to customers.
Our HEART is helping SMBs enhance their pursuits with reliable technology and offering a team to support you the whole way – just like family.
We Create High Expectations For Security
If you're like our clients, you:
Demand reliability and security from your computer network.
See technology as a powerful tool for increasing productivity and gaining competitive advantages.
Believe that paying to prevent problems is far more efficient than paying to fix problems.
Want a technology partner that will act as a trusted adviser and seek to improve the productivity, profitability and operations of your business through technology.
If this sounds like you, great. You're halfway there. We know that having high standards for your IT team is essential to business growth. Let us take you the rest of the way, with our team of talented and reliable IT experts.
We focus on getting to know your business and network thoroughly, so we can prevent attacks before they happen and respond to issues in record time. You don't have time to waste when it comes to cyber security, and neither do we.

Education Is The Heart Of Windstar Technologies
The Windstar team, sales and technical staff have over 20 years of experience selling, servicing and supporting network and computer products. What we know that a lot of fly-by-night competitors don't is that security is a way of life. Protecting your business, its assets, data and employees means recognizing that security is a company culture. We will present you with new ways of thinking. If you're ready to meet new technology on the horizon, we're prepared to take you there.
That's why we are a Cybersecurity Maturity Model Certification Registered Provider Organization (CMMC RPO), helping businesses meet the highest standards of data protection when working with the Department of Defense. Dave and Justin are both CMMC Registered Practitioners, and Windstar is a Microsoft Silver Partner and has competencies in Small and Midmarket Cloud Solutions and Azure Cloud Platform.
The Perks Of Working With A Microsoft Certified Partner:
Microsoft Silver Competency – We are recognized because of our ability to deliver industry-proven solutions and services to our clients.
Up-To-Date On The Latest IT Trends – Our partnership with top-tier vendors means we know what's coming down the pipeline. We see trends on the horizon, and we help bring those solutions to our clients. We can also provide you with demos before you commit to anything.
Microsoft Partner Status – We achieve high-level partnership because of our expertise with Microsoft technologies.
Your Skilled Technology Experts – We are experienced engineers who view ourselves as an extension of your business.
24/7 Help And Support – Help is only a phone call away.
Ongoing Training – We have a thirst for knowledge. Our team is always undergoing training and earning certifications that allow us to bring the best services to you.
We're A Business Like YOU
At Windstar Technologies, we believe that our role with our clients runs far deeper than simply resolving computer issues. Unlike other IT companies, we provide a complete IT solution that is proactive rather than reactive. Because we're a small business too, we know what you have at stake: the success of your business, confidential data, the livelihood of your employees. Maintaining enterprise-class security and business solutions is not easy, but the challenge is what gets us up in the morning.
We believe in your success. We'll not only be there when you need us, but we'll also be there before you even know you need us. Ready for the next step? Give us a call. We can't wait to hear from you.